Marathon to Miracles with Arkansas Dance Marathon
On February 5th, Arkansas Dance Marathon kicked off their Marathon to Miracles push day. Over the following 26.2 hours, each participant was challenged to raise $75. The $75 would represent the amount it costs to throw a "No Mo Chemo" Party for a patient who just finished treatment for pediatric cancer.
Throughout the day, they had numerous on-campus activities, fundraising challenges, and ways to engage participants. Additionally, they partnered with the local news station, KNWA for a telethon to increase their impact for the hospital.
By the end of the day, they had funded roughly 162 "No Mo Chemo" parties and raised $15,743.48 all for the kids at Arkansas Children's Northwest!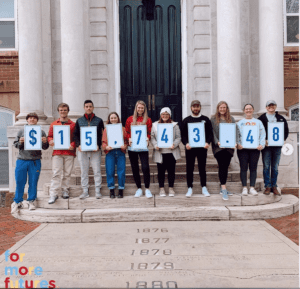 With only 25 days left until the big event, the ADM students are working hard towards reaching their goal and supporting as many kids as possible.
Arkansas Dance Marathon is part of the national Miracle Network Dance Marathon movement at the University of Arkansas supporting Arkansas Childrens Northwest. If you are interested in supporting Arkansas Dance Marathon's efforts, you can donate via this link: https://events.dancemarathon.com/event/arkansasdm