#1 Panda Express Fundraising Location Named in Little Rock-Springdale Market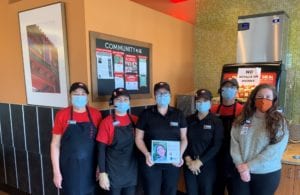 2020 definitely came with it's challenges, but that did not stop Panda Express team members from championing children and asking customers to round up their total for their local Children's Miracle Network Hospital, Arkansas Children's Northwest, located in Springdale, AR. Team members at the Rogers, Arkansas location turned fundraising into a challenge, competing to see who could get the most donations for patients at Arkansas Children's during their shifts. In total, Panda Express associates at the Rogers, Arkansas location raised a total of $21,499.67 in 2020.
In 2020, Panda Express locations in the Little Rock-Springdale Market raised over $102,000 collectively for patient families at Arkansas Children's.
Since 2015, Panda Express has donated $400,000 to Arkansas Children's. These funds help kids in our community by transforming how we meet the most urgent needs, save more lives and protect our collective future. In the midst of the COVID-19 pandemic, Panda Express has donated over 18,000 masks to keep our frontline heroes safe. In addition, Panda Express provided 250 meals for our healthcare heroes.