How Dance Marathon and Media Partners Work Together, For The Kids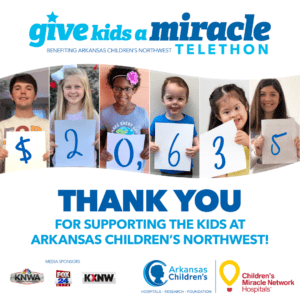 Despite COVID-19 challenges, the Arkansas Dance Marathon Give Kids a Miracle Telethon had its most successful year thanks to our new strategy and amazing media partners at KNWA, FOX24 and KXNW.
Here's some of the ways we shifted the event and how our media partners went above and beyond.
The Telethon became a one-day event.

In the past the Telethon spread across two evenings (5 p.m. to 10:30 p.m.) to capture prime-time tv viewers. However, this year as a one-day event, the Telethon was aired from 6 a.m. to 10:30 p.m., and we increased our call-in donations by 395%.The Telethon became a one-day event.

All interviews were pre-recorded on Zoom.

Pre-recording the virtual interviews allowed our patient families tell their stories from the comfort of their own homes.
Because the interviews were pre-recorded, we were able to produce higher quality video segments that cut to photos and videos that helped illustrate the story patient families were sharing.

America's Car-Mart partnered with our media partners to underwrite advertising expenses, which allowed for the Give Kids a Miracle Telethon advertisements to be promoted far and wide on social media as well as the media websites.

This type of promotion helped us meet and actually exceed our revenue goal for this event.

While volunteering at the Telethon, Arkansas Dance Marathon hosted their "Push Day" in conjunction with the Telethon, promoting their personal fundraising pages to reach their collective goal.
Thanks to our generous community and our wonderful partners, we were able to raise $20,635 for the kids at Arkansas Children's Northwest.