$1 Billion Raised by Walmart and Sam's Club
Just over 30 years ago, in 1987, Walmart and Sam's Club joined the movement to help kids live better by becoming a Children's Miracle Network Hospitals partner. Over these 31 years, a lot of incredible things have happened through this partnership, and today we're overjoyed to celebrate a huge milestone for Walmart and Sam's Club. As of today, they have raised $1,000,000,000 for Children's Miracle Network Hospitals. That's right. A billion dollars. What could be more incredible than a billion dollars? That it was raised mostly dollar by dollar through donations at the register. Associates deck out in decorated vests for work, put store managers in the dunk tank, host hot dog cookouts in the parking lot, ride around the stores on a bike selling popcorn, and the list goes on.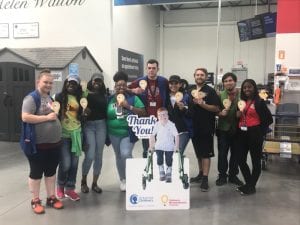 Over the years, Walmart and Sam's Clubs have funded some of Arkansas Children's greatest needs including Angel One Transport, the Neonatal Intensive Care Unit and neonatology, dental outreach, and most recently, Arkansas Children's Northwest– one of the nation's newest children's hospitals. This year, Walmart and Sam's Clubs donated nearly $682,000 to Arkansas Children's Hospital. We are so thankful to all of the associates who go above and beyond for the children in our community. Because of them, we are able to help the thousands of kids who come through our door each year, and reach more children where they live, learn and play. Arkansas Children's is so grateful to you, Walmart and Sam's Club for your dedication to making an impact on children's health!
Evan Lee, Arkansas Children's Ambassador visiting his local Walmart