Walmart and Sam's Club $1B Celebration at Arkansas Children's
Last week Children's Miracle Network Hospitals (CMNH) announced that Walmart and Sam's Clubs have raised $1 billion dollars for CMNH! Arkansas Children's is overwhelmed by their commitment to making a difference in lives of kids, and the excitement of this announcement was felt all throughout Arkansas. We helped celebrate this amazing news at stores across the state, Arkansas Children's Hospital, Arkansas Children's Northwest, and at our Children's Forum.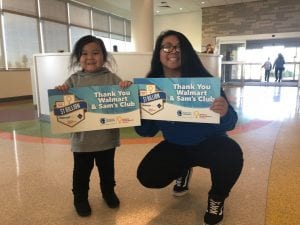 During the forum, a special celebration recognized this monumental achievement by our friends at Walmart and Sam's Club. In case you missed it, here is a video from Arkansas Children's President and CEO Marcy Doderer and Children's Miracle Network Hospitals CEO John Lauck congratulating the associates who worked so hard to make an impact on children's health in Arkansas and beyond.